Mike and Sandra Camm
We were guided by Sean on a previous safari and when we heard he had set up Safaris I Can See there was no doubt in our mind that he was the man we wanted to plan our next trip to Zimbabwe. We were not disappointed; from the first email to our final goodbye, Sean had everything organised perfectly.
At the early planning stage Sean took the time to understand the type of holiday we wanted. After 10 previous safaris across 5 countries we have quite clear ideas of the sort of thing we wanted and Sean was more than happy to create an itinerary that reflected this. We were keen to have longer than usual game drives, often taking breakfast, lunch and sundowners out with us and not getting back to the camp until dinner!  This flexibility allowed our daily timetable to be dictated by the animal action around us, rather than a clock – when the opportunity arose to delay lunch and instead walk along the Zambezi with lions on one side and hippos on the other, Sean was keen to oblige!
We wanted to include plenty of bush walks and Sean certainly delivered; We were regularly out of the vehicle, walking amongst lions, elephants, buffalos and hippos, on each occasion Sean made us (and the animals) feel completely safe and at ease. A particular highlight was being able to spend over an hour sat in the bush (on a termite mound!) watching a pack of wild dogs playing with their pups. Sean's tracking skills meant we were never short of animals to watch and he was always happy to explain how to read the signs left by the wildlife.
One of Sean's particular strengths is his ability to get on the same wavelength as his guests and tailor his style of guiding to suit. Even after 10 years of safaris there is still plenty to learn and Sean's in-depth knowledge of the bush and its wildlife coupled with a good dose of humour made for the perfect combination, not to mention his expert coaching of the amateur photographer! He even managed to get us interested in birdlife, which is not usually our preferred viewing! Importantly he also knew when not to talk, when to allow us time just to sit and absorb the sights and sounds of the bush all around us.
Sean's organisation of our trip was fantastic; surpassing the service we've experienced from specialist travel agents in the past. Sean met us on arrival in Zimbabwe and all our transfers between camps and airports were taken care of. In camp, Sean liaised with the camp staff to ensure everything ran smoothly for us – making all the arrangements for our requested early starts and the necessary picnics! Sean's years of working throughout Zimbabwe meant we were certain of a warm welcome at each camp and access to the best tips for the day's game viewing too. It was also reassuring to know that should we need to get in contact with the outside world, Sara, Sean's wife, was on hand to facilitate this for us.
Safaris I Can See created the perfect environment for us to enjoy ourselves and we certainly did! Look out Sean; we'll be coming back!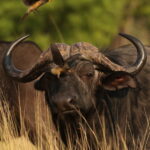 Gabi Fietzek & Holger Schif from Munich
In 2015 we got to know Sean Hind as a very likeable person with an immense knowledge of the African Wildlife and real love and passion for what he does.
So we decided to have him as our private guide the following years and were more than satisfied with his guiding us the two times we have been back so far.
What we really appreciate is Sean's well-thought-out planning of a trip or day excursion, his careful organisation, his spontaneity in changing plans if necessary and his responding to his guests' wishes and preferences.
Though often coming across animals quite close, we always feel safe walking in the bush with Sean.
As he has a good sense of humour, too, we always have a lot of fun with him, and discussions at the campfire, whether on football, TV-series or whatever topic may arise, are always vivid and accompanied by much laughter.
We are looking forward to being guided again by Sean soon!
Crystal & Flavio
Thank you Sean & Sara for arranging a truly magical trip at The Hide in Hwange National Park.  Everything, from the booking process, to the arrival, and everything in between was handled so beautifully and professionally, you exceeded our expectations.  Sean & Sara provided all of the necessary information to help us through the planning process. We chose the Hide to celebrate a milestone birthday, it will be one that will be cherished forever – the perfect setting; luxury accommodation, abundant wildlife, sundowners, good food and the best guide to show us around.  An African experience dreams are made of!
Thank you once again, we will be sure to always book our safaris through you!
Kelly
Thanks so much for giving us a fabulous week at Mana, your amiable good nature, sense of humour, knowledge and skill really enhanced our experience. I particularly appreciate you taking the time to point out birds to me and for trying to teach me a thing or two like how to identify the narrow waisted Female bataleur : ) My Zim bird list reached around 150 thanks to your eyes and ears giving it a great start.
Nora Marie
Thank you for the fantastic walking safaris in Mana Pools Sean! You are an excellent guide – I am looking forwards to the next time!
Kathleen – USA
Jose and I wanted to let you know it was such a pleasure to meet you!!!  We can't express how much we appreciated you as our guide and feel like we hit the jackpot when we were teamed with you!  Your knowledge and most of all your passion for what you do is so obvious and being a guide is what you were born to do!  We learned so much from you that we were able to share with others.